I have been an athlete as far back as I can remember and of course it is going to cause some wear and tear on my body after years on my feet.  I had foot surgery 5 years ago for a sesamoid fracture and my foot has been inflamed with Plantar Fasciitis ever since.  Having a career where I am on my feet all day has not helped either.  I have tried everything over the years to try and get rid of the foot pain from insoles, new shoes to massage.  The only thing that seems to work is rest and no running, which is not going to happen.  Fighting plantar fasciitis has been a Bunch of Mullarkey!
An old client, Natalie Semon, returned to group training about 5 months ago and suggested that I go to her PT clinic.  Natalie runs one of the top physical therapy clinics in Scottsdale, Camelback Sports Therapy http://camelbacksportstherapy.com.  Out of frustration and knowing that I could trust my old friend, I decided to give it a try.   She tried different techniques on my foot from soft tissue work, cupping to dry needling.  After giving all of them a try, I noticed that the dry needling was really making a difference in my foot pain.  I also quit running while we have been doing treatment, it's too damn hot in AZ right now anyway:)
How does dry needling work?  My physical therapist, Jenny, presses on the bottom of my foot to find the areas of discomfort.   Once she finds the first spot, she inserts one needle.  She then finds the second place of discomfort and puts the other needle in.  She then hooks up the muscle stem to both needles, turns it on until I can feel the pulses and then leaves it on for 8 minutes.  I know this sounds terrible, but it actually feels good once the needles are in place.  After the 8 minutes, the muscle stem is detached and the needles come out.  I then do a few corrective exercises and get back to my busy day on my feet.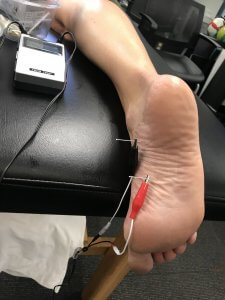 We have noticed over 3 months of treatment that the points of pain are becoming harder to find.  I am no longer getting heel pain and the tightness in my calves has loosened up.  I am now a true believe that dry needling is the best option when fighting plantar fasciitis.  I am truly thankful that Natalie returned to group training after almost a 10 year hiatus and sent me to her PT business.  The therapists there really know their stuff!  I would also like to thank Jenny for taking such good care of me over these past 3 months.  Now that the weather is starting to break, I am going to ease myself back into sprint workouts.  I am confident that my foot is going to feel a whole lot better.  If you are fighting plantar fasciitis, contact Camelback Sports Therapy and give dry needling a shot.  It has certainly kept me in the game!
Karen Mullarkey
"No Mullarkey" Personal Training
IFBB PRO/WBFF PRO/ISSA CFT