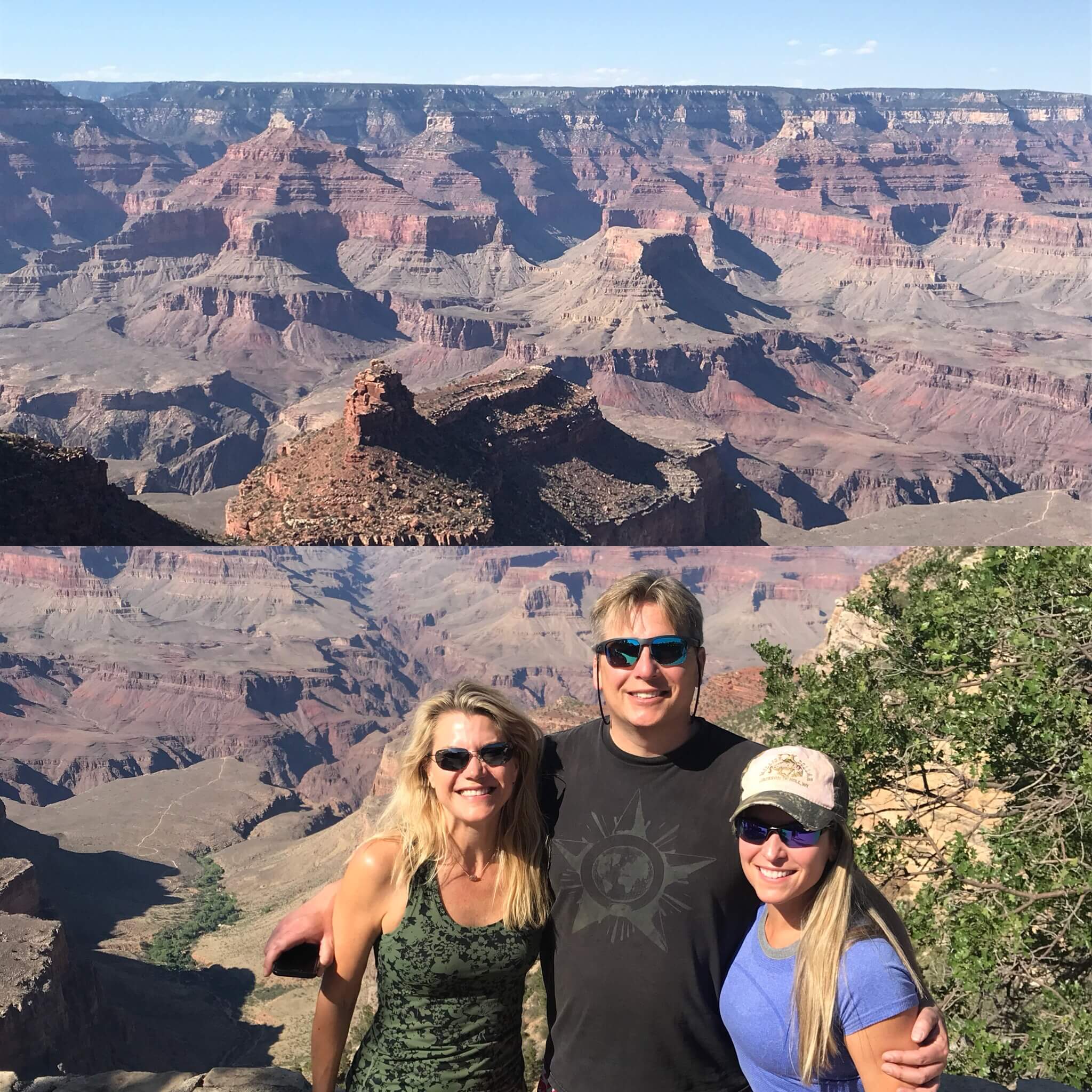 I just came off a weeks vacation in the gorgeous Grand Canyon on a white water adventure and WOW what a trip!  If you get the opportunity I would highly recommend you make it happen. We spent a total of 4 nights camping on the gorgeous Colorado River and covered almost 200 miles on the water in the Grand Canyon between Phantom Ranch and Lake Mead.
Day 1
We drove to the South Rim of the Grand Canyon and stayed at the hotel.  We enjoyed our second to last night in AC and using a flushing toilet:). We had a great dinner at El Tovar with the whole crew, which consisted of 9 of us.  Susan's family was nice enough to let me join their adventure for the week.  What a great and fun group of people.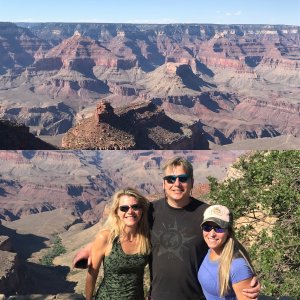 Day 2
We hit the Bright Angel Trail at 5 am and began our 10 mile hike down to Phantom Ranch, which can only be accessed by foot, mule or boat.  As soon as the sun came up over the canyon walls, it began to get hot.  I was glad that we got an early start on the day considering it was going to be 105 degrees on the canyon floor.  For those of you who have never been, it actually gets hotter as you hike down.  Be sure to have enough water, sunscreen, hat, sunglasses, salty snacks and a good pair of hiking shoes.  The last thing you want to happen is to get heat exhaustion.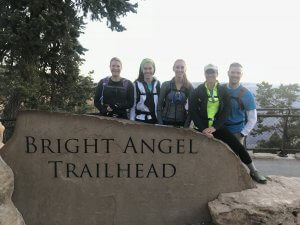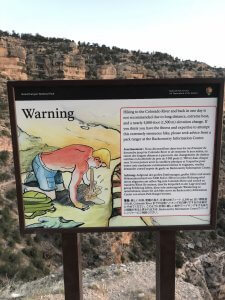 5 hours later following a gorgeous hike we arrived at Phantom Ranch, which is the only lodging below the canyon rim.  It was just after 10 am and it was already extremely hot.  We headed straight for the indoors in the common area and enjoyed an ice cold beer to reward ourselves for our hard work.  We sat with other hikers and enjoyed taking a load off.  My feet and legs were tired from the long journey, not to mention we were ready for lunch.  I filled out post cards to send to my family, which were delivered up to the South Rim by mule.  Mules are the best way to transport goods to and from the canyon floor to the rim.  We were certainly experiencing the Wild, Wild West!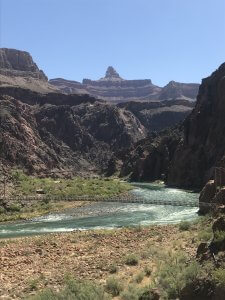 We waited for the rest of the Wempa party to arrive and then checked into our cabin.  It consisted of multiple bunk beds and we all enjoyed one last night of AC, a flushing toilet and a shower.  We all got our gear together to head to the river the next day to begin our 4 night journey down the Colorado River to Lake Mead.  We had a communal dinner with several other folks at the Ranch, which has been up and running since the 1920's.  How cool that they still feed an army of hungry hikers and boaters every day.  We filled our bellies and then hit the hay to rest up for our first day rafting on the Colorado.  I was so excited I could barely sleep.
Day 3
We ate one last meal in AC and then hiked .7 miles to meet our raft guides from Canyoneers.   I was so excited to experience white water in the famous Grand Canyon.  Check back next week to read more about our Grand Canyon Adventures rafting the Colorado River.  Check out my Facebook and Instagram pages for photos of this amazing adventure.
Karen Mullarkey
"No Mullarkey" Personal Training
IFBB Pro/WBFF Pro/ISSA CPT