Thanks for reading my Grand Canyon White Water Adventures!  Now time for Part Deux!  You can imagine how ready we were to get on the 55 degree Colorado River considering the temperatures in the canyon were climbing to 105+ degrees.  I know I was ready to cool off in some white water rapids:)
Day 4
We hiked .7 miles from Phantom Ranch to the banks of the Colorado River to meet our raft guides from Canyoneers and to get loaded on the raft.  This would be our main source of travel for the next 5 days as we make our way through the Grand Canyon to Lake Mead.  I was so pumped considering I hadn't been in white water since I left my temporary home of Salida, CO almost  18 years ago.  If I had it my way back then, I would have been a river guide on the beautiful Arkansas River.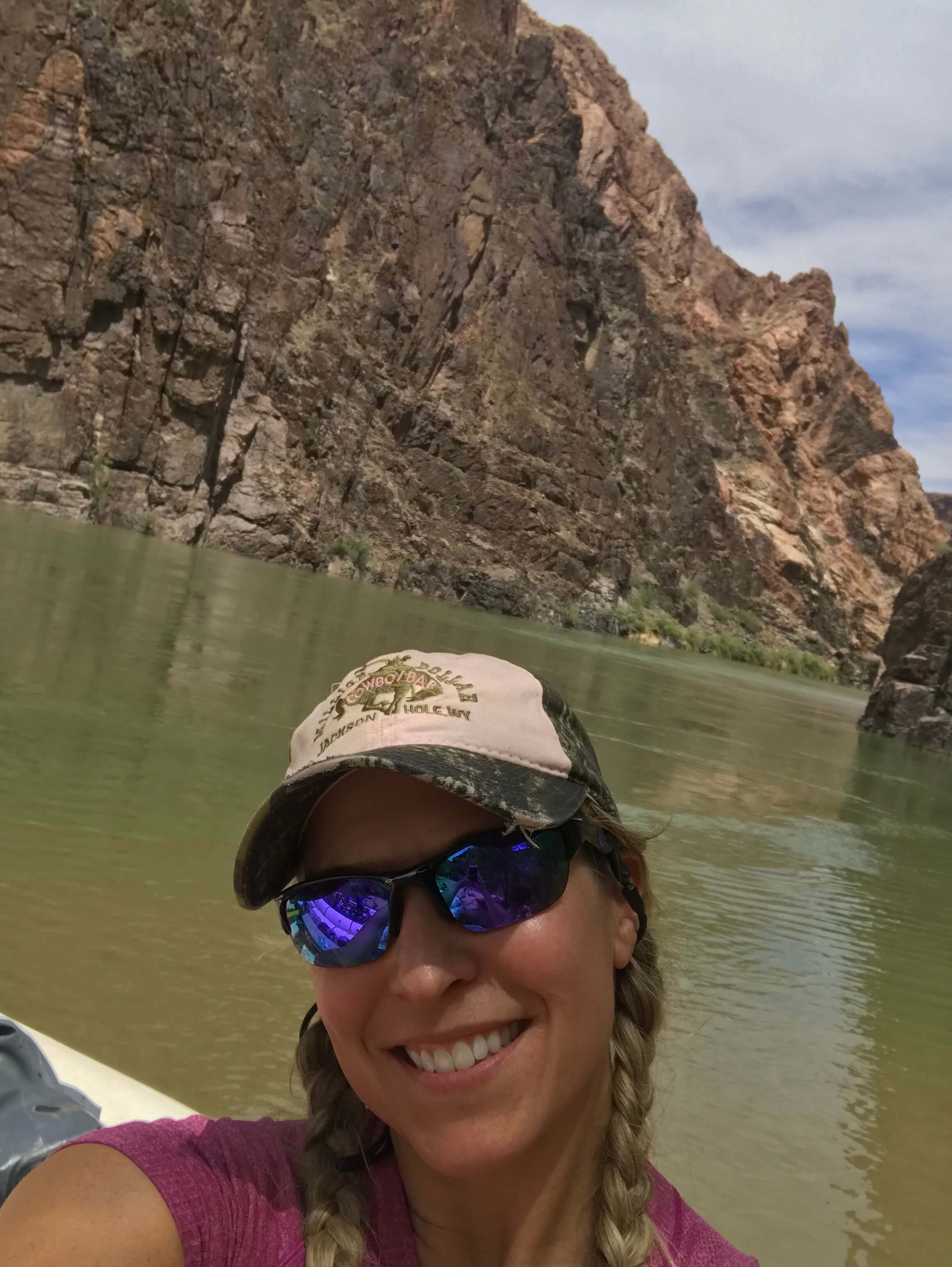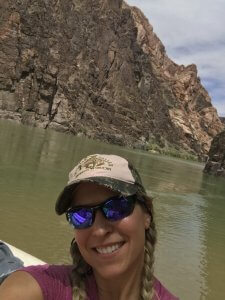 We meet our guides Jason and Ravyn, loaded all of our gear into dry bags, was introduced to the other 4 passengers on our boat (an awesome family from Alabama, my accent was definitely going to get better:) and we were on our way.  We had no time to adjust to being on the boat and were thrown into our very first rapid of the trip.  Hang on tight and enjoy the ride!!!!!  I couldn't stop grinning from ear to ear as our boat got hammered with water.  The water was bone chilling despite the hot temperatures.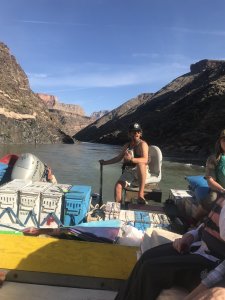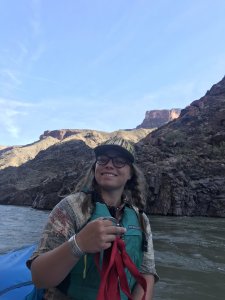 As myself, Cameron and Chuck sat up front we were warned to get down into the raft.  When our guide gave this warning we knew we were in for a good one.  We took our seats in the boat and held on for dear life as we neared Hermit Rapid.  I noticed while sitting that the guys were shaking.  I had to laugh because after the rapid I asked them if they were just cold or if they were sceeeeeeeerrrrrrd:). They both replied that it was a combination of both.  I am not going to lie, it was the most aggressive rapids of the trip and caused quite the adrenaline rush.  As the front of the boat was sucked into the hole, the top of the boat was above us and the rest of the passengers were completely looking down on us.  WOW!!!!!  What a rush!  We barley survived one of the biggest rapids of the Grand Canyon!  Thanks Jason for getting us through that without being flipped!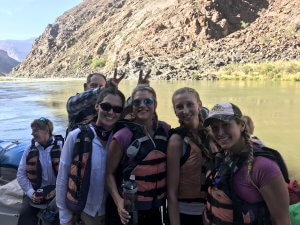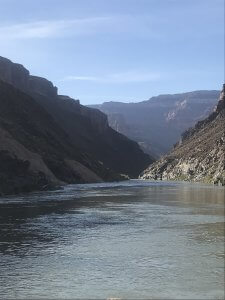 I'm not going to lie, that called for Miller Time:). We made our way down the river, stopped for lunch on the shore and then continued on downstream through various other heart pounding rapids to our camp for the evening.  Our guides advised us to "Cowboy Camp" because it was too hot to sleep in a tent.  I'm not gunna lie, I was a bit worried about sleeping out in the open since scorpions, rattle snakes, fire ants and other creepy crawly's reside on the river bank.  Despite being worried, we decided to take the professionals advice and began to set up camp for the night.  When camping in the canyon, here are some words of advice when looking for a spot to sleep…..
-Find an open beach spot.  Scorpions like to hide in the brush so it's best to be out in the open.
-Pour buckets of river water on your campsite to cool down the beach.
-Lay down your tarp, then sleep pad on top of the wet beach.  Don't lay your sleeping back out until you are ready for bed to avoid an unwanted critter from trying to get fresh.  A black light is helpful when looking for those critters.  Scorpions glow in the dark….creepy I know!
-Don't lay near the black rocks of the canyon because they hold the heat from the day.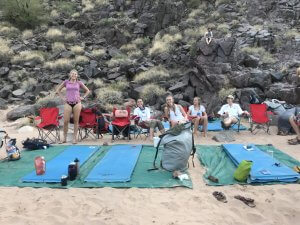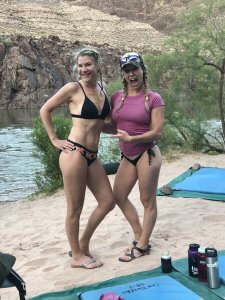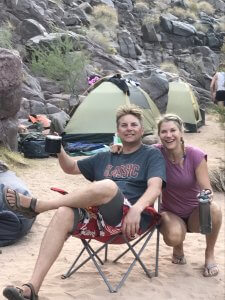 Once camp was set up we made our way down the beach to our very first family dinner.  Dinner was fantastic and so was the wine that one of my clients gave us as a gift to take down the river.  Thank you so much Mimi and Nick!  With full bellies and a delicious Zin we made our way back to hit the hay.  I was absolutely exhausted from our very first day on the water, but was wondering if I was actually going to get sleep.  Despite having dreams of critters running past my head,  I managed to get some shut eye.  I am still not sure if that critter was a dream????
Check back next week for more adventures on the white water of the Colorado River.  If you haven't already done so, please sign up on my website for weekly blog posts.  You will receive FREE training/nutrition advice and you will also get to follow along with my adventures and the adventures of the "No Mullarkey" Team!
Karen Mullarkey
"No Mullarkey" Personal Training
IFBB Pro/WBFF Pro/ISSA CPT