Two weekends ago, a group of us hiked to Havasupai Falls in the Grand Canyon. My client, Cheryl Schaaf got lucky and got us six permits on a very last minute basis. She contacted me via phone and was overly excited about being granted the permits. Now we just had to find four more willing and physically capable individuals to backpack in eleven miles each direction. Kristi Quick, Craig Pedersen, Marla Pedersen, Steve Pedersen, Cheryl and myself were all in.
I was so excited to dust off my backpacking gear that I hadn't used since I left Colorado back in 2004. Yes, I'm getting old! I loved throwing all my gear on my back that I needed to survive a weekend in the wilderness. I also loved the physical challenge of carrying a 40-50 pound pack and covering some ground. None of us had done this hike before, so we had to do some research and invest in some gear.
Due to the time of year I knew we were going to need warm clothes, a warm sleeping bag and a good tent. We started the trail around 11 am and it was very chilly on the rim. The trail started out very steep with switchbacks for about 1.5 miles. Then, it leveled out and we found ourselves on a gorgeous hike through the Grand Canyon. Eight miles in we made it to the village of Supai. I found it so awesome that the natives lived that far down in the canyon. We used the restroom, refilled our water bottles and headed to camp which was another 3 miles in. At this point our packs were starting to weigh on us and the sandy trail was not easy to hike on. I found that switching my trail shoes out for my Chaco sandals was a good call.
As we neared camp, we began to get glimpses of the water. I have been to the Caribbean and this water was even more clear and magnificent. Then as we neared the campground we got our first view of Havasupai Falls. It was truly impressive and certainly wowed me. The pool under the fall was so clear, the stunning view was breathtaking. We headed to set up camp since sunset was nearing.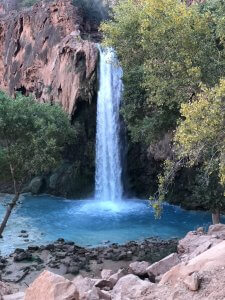 The next day we took the adrenaline pumping trail to Mooney Falls. We had to hike through a series of tunnels in the side of the mountain and then scale down a rock wall holding onto chains to help guide us down. I was thankful for my American Ninja Warrior training, which certainly made me feel more confident on this tricky trail. Once we reached the bottom I was completely in awe of the view. Mooney Falls was even larger and more powerful than Havasupai Falls. We had to take our turns getting photos standing on a stump in the middle of the pool. I was drenched from all the spray coming off the falls.   It was chilly but worth it:)
We made our way back up the trail and went back to Havasupai Falls to see it up close and personal. Us gals decided that we had to take a dip considering we hiked 11 miles to get there. The cold temps were not going to hold us back. Holy crap that water felt like an ice bath, which actually felt amazing on my sore muscles. We managed to go under, take a photo to prove that we are crazy and gave some lucky hikers a show as we had to get European and out of our freezing, wet clothes. It was an absolute riot and none of us cared. Sometimes you just gotta get naked in nature:)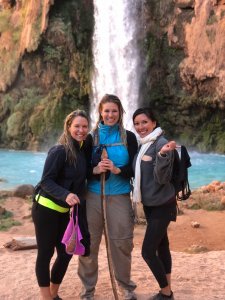 If you get the opportunity to hike Havasupai Falls, I would highly recommend it. I would also recommend backpacking in and not taking a helicopter. I couldn't believe the lines of tourists waiting on a helicopter ride. It is so much more rewarding when you pack your gear in rather then getting a ride or a mule to bring your gear. Really people????  Get off your butts and earn that view. If you are going to make the trek, here are some helpful tips……
-Pack warm clothes if going in November.
-Keep your load as light as possible.
-Sunscreen is a must.
-Pack water shoes. I hiked the whole way out in my Chaco's. The sandy hike can get stuck in your boots and shoes.
-There is a spring at the campground. No need to filter this water, mother nature did her job. The water was AMAZING!
-Take plenty of food. What you don't eat the reservation dogs will be happy to gobble up. We named ours Bear and she was happy to eat our leftovers.
-Pack a headlamp.
-Pack a Thermarest to sleep on.
-I took my Crazy Creek chair, but they do have picnic tables at the sites.
-They don't allow fires so a bottle of good Kentucky bourbon will keep you warm:)
-There are restrooms so no need to poop in the woods:)
If hiking Havasupai Falls has been on your bucket list and you want to get in shape for the long trek, contact me today for a FREE consultation. We are going to be getting at least 10 permits to go back in May and they will go on a first come, first serve basis. May is going to be amazing because we will be able to spend more time in the magical water. Nothing feels better than putting all your gear on your back and earning that view. Sign up today while permits are still available.
https://www.nps.gov/grca/planyourvisit/havasupai.htm
Karen Mullarkey
"No Mullarkey" Personal Training
www.karenmullarkey.com
ISSA CPT