I had the honor of being featured in Train for Her Magazine http://www.trainforher.com in the July edition along with 2 of my past clients, Kelly Nash and Tricia Zacchini.  I am an ISSA certified personal trainer http://www.issaonline.edu. and my contact at ISSA generously told me about this great opportunity to not only feature my fitness journey, but to also feature some of my clients success stories.  I thought, what a great opportunity for my clients to get published nationally.  That kind of opportunity does not come around very often and I thought it would be a great way for me to show my appreciation for their hard work.
I was also hoping that these stories would help to drive others out there to take control of their health and fitness, it is very important to learn how to balance life, family, career and fitness.  I talked about how my ex husband was not very supportive of my fitness career and how he told me that I would never make a living in the fitness industry.  Nothing like a challenge to light a fire under my butt.  I have now been the owner of "No Mullarkey" Personal training and in business for over 10 years.  I have had the opportunity to work with some amazing clients locally, nationally and internationally over the years and to help to inspire them to go after their goals and dreams.  I wouldn't change a thing:)
Kelly Nash trained with me several years ago to compete in her very 1st NPC bikini competition and brought home some hardware.  This was not long after successfully completing her 1st full Ironman.  Kelly is an amazing woman and mother who worked her butt off to accomplish those goals.  She later returned to training with me after having 2 more children and also being diagnosed with Lupus.  She is living proof that a positive attitude will get you through anything.  I am sure some days are tougher than others, but Kelly continues to train, eat well and maintain a positive attitude despite dealing with Lupus and having 2 small boys to take care of.  Kelly has since moved to California with her amazing husband and their children and I am so proud of her for keeping fitness a priority.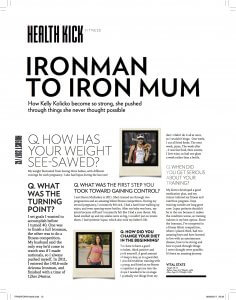 Tricia Zacchini trained with me to prep for her very 1st NPC bikini competition this past March.  Tricia began her fitness journey in December of 2016 and trained up until the show.   She completely transformed her physique by losing  a total of 25 pounds and went from 28.5% body fat to 16.9% in just 3 short months.  She was a very easy client to work with because she followed her meal plan and workouts to a T.  She is now also able to lead by example for her children by showing them how to live a healthy and balanced lifestyle.  She is also blessed with a very supportive husband.  Be sure and check out her article for her prescribed "No Mullarkey" lifting, cardio and supplement plan that helped to get the body fat off for good.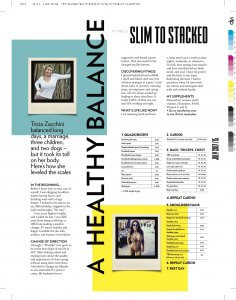 I would like to thank Patrick Gamboa of the ISSA for putting me in touch with Megan at Train for Her Magazine.  This has been a great opportunity to share our stories and to hopefully inspire their readers to go after their dreams no matter how crazy and far fetched they seem.  If you are looking for a trainer to help you make that step, contact me today for a FREE consultation.  I offer one one one, group, virtual training and nutrition packages.  Remember……"No Excuses and that's No Mullarkey"!
Karen Mullarkey
"No Mullarkey' Personal Training
ISSA CPT
www.karenmullarkey.com